With its new product line "sedak isomax", sedak strengthens its position for premium oversize insulating and safety glass.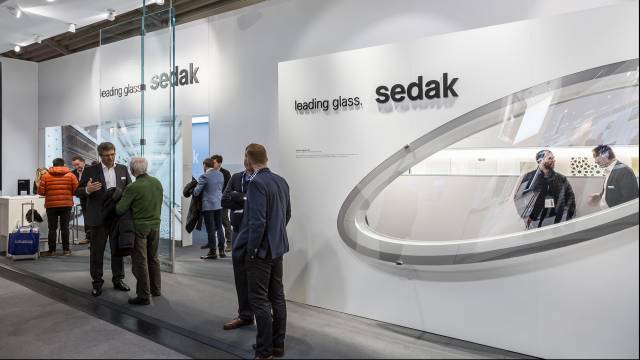 BAU: sedak highlights glass competence with slim insulating glass
Despite its slim design, the double and triple units reach a U-value up to 0.23 W/m²K, a new insulation level. They are available in up to 3.2m x 16m. Besides that, the glass manufacturer presented some exhibits with especially sophisticated detail-solutions: a backlit glass pane with a high-resolution, ceramic-ink digital print, a construction showing a part of a glass-fin façade with minimal connection elements, as well as a cold-bent triple laminated safety glass.
With the new IGU product line "sedak isomax", sedak consolidates its position as leading innovator for oversize formats and customized solutions. The oversize glass panes in up to 3.2m x 16m reach insulation values up to 0.23 W/m²K thanks to a vacuum insulation panel. However, they remain as slim as conventional insulating glass and can be combined with common façade systems.
According to the motto "Big in Detail", the expert for oversize glass formats showed with three further exhibits which possibilities offered the modern building material. To expand the range of application, outstanding detail-solutions are required.
For a large façade with maximum transparency, also the supporting construction has to be out of glass. sedak demonstrated technical brilliance and one of their core capabilities – with a six meters high glass fin and two façade elements that had been installed with hardly visible titanium inserts laminated in between the glass layers. The glass manufacturer integrates the inserts into th...
expand