Marabu will unveil two exciting innovations at this year's Glasstec trade fair in Düsseldorf.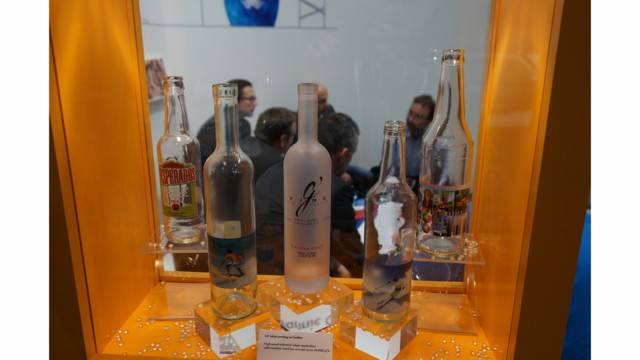 Marabu to release new inks and coatings at Glasstec 2016
The Ultra Glass UVGL range of inks creates a silvery sheen that turns drinking glasses, bottles and flat glass into real eye-catchers. The second new development is a highly impressive thick-film or tactile coating. When used to decorate drinking glasses, this special coating turns them into something unique and distinctive, with tactile effects.
Other Marabu highlights at Glasstec will include high-gloss metal effects created by hot stamping in conjunction with Ultra Glass UVGL primers, plus a new basis top coat for in-line foiling.
Until now, the glass industry has obtained high-gloss gold and silver effects using ceramic inks. However, these are expensive, and the baking process often generates high-energy costs. In Düsseldorf, Marabu will present a promising alternative – a high-gloss silver from its Ultra Glass UVGL range. This print-ready product is coated with a high-transparency, silicone-free UVGL-WV base coat. The silver ink further expands the range's broad color spectrum, and lends an exclusive look and feel to container glass, such as drinking glasses, bottles and flasks, and to flat-glass products such as mirrors or cupboard doors. In addition to applying a higher sheen to glass products, it protects them from abrasion. In a stress test in an industrial dishwasher, the finish sustained no damage after 1,500 wash cycles, and was graded "very good."
The UVGL ink range's two-component system is versatile and gives rise to strong tactile effects. Designs are p...
expand