ICG held its third Winter School workshop, attracting 35 research and masters students to Wuhan.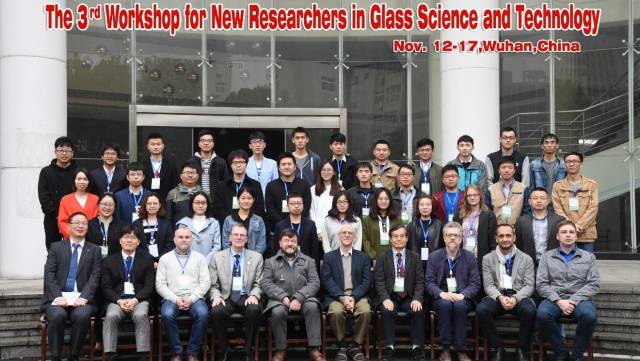 Participants of the third ICG winter school
On 12 November 2017, 35 research and masters students met at the Vienna International Hotel in Wuhan to register for a one week Winter School on 'Glass Formation, Structure and Properties' organised by a local committee under the banner of ICG. Their meeting place was the Vienna International Hotel, the accommodation for the week for all the students and teaching staff involved.
Prof Chao Liu in the Wuhan University of Technology led the local organisation with significant assistance from Prof Jihong Zhang and Prof Kai Xu, and several local doctoral students who had attended previous winter schools. Six of the teachers from the Montpellier Summer School (Professors Conradt, Hand, Hehlen, Parker, Takada and Vacher) provided teaching on fundamentals of glass technology such as thermodynamics, durability, diffusion, structure and its analysis. They were joined by several local lecturers who spoke on NMR (Prof Jinjun Ren), X-ray absorption spectroscopy (Prof Yong Gyu Choi, South Korea), glass ceramics (Prof Jian Yuan) and ion implantation to make biosensors (Prof Taras Kavetskyy, Russia).
The formal talks filled the morning sessions from Monday to Thursday - four lectures a day each of 45 minutes with the goal of teaching current understanding of fundamentals. The first afternoon provided an opportunity for the students themselves to tell everyone their individual areas of interest. Each gave a five-minute presentation based on their research topics. This was part of a str...
expand