glasstec was the venue chosen by the Austrian firm to show off its molybdenum electrode cooling system for the prevention of premature boiling water corrosion.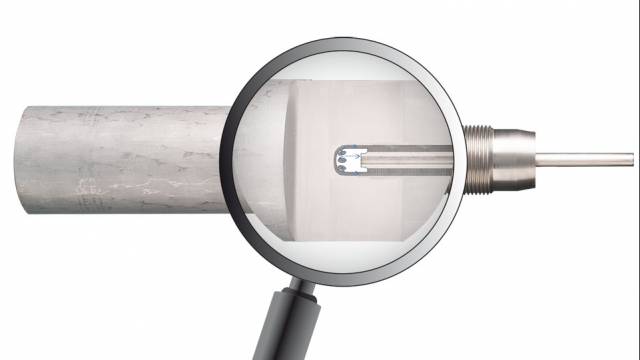 Plansee presents glass melting electrode with new cooling system
Plansee has been well known for decades among glass manufacturers for its strong metals in glass melt tanks. Plansee has brought successful new products onto the market, such as tank reinforcements or new materials like MoZrO2. At Glasstec 2014, Plansee unveiled its new cooling system for top electrodes in glass melt tanks.
The structure of traditional cooling ducts has the disadvantage that the flow rate of the cooling water drops dramatically at the tip of the duct. This results in congestion points at which the temperature rises and the cooling water becomes very hot. The consequence is boiling water corrosion in the cooling duct and oxidation on the exterior of the electrode. In the worst case, it is possible for a leak to develop near the congestion point after just a few days of service, an outcome deemed unacceptable by glass manufacturers and Plansee alike.
To avoid boiling water corrosion in the glass melting electrode, the product developers at Plansee have developed a cooling system that prevents congestion points and at the same time ensures that the cooling duct is precisely positioned and centered.
"In principle, our solution comprises a rounded bore and an innovative cooling insert located directly in this bore. The new design allows water to flow away freely, prevents localized overheating and protects the electrode," explains Rudolf Holzknecht, head of the application group at Plansee. The electrodes with the new cooling system, for which a patent is already...
expand