Faster – Higher – Stronger! Bystronic glass is re-interpreting this classic motto originally adopted by Pierre de Coubertin for the Olympic Games, by adding the word "bigger".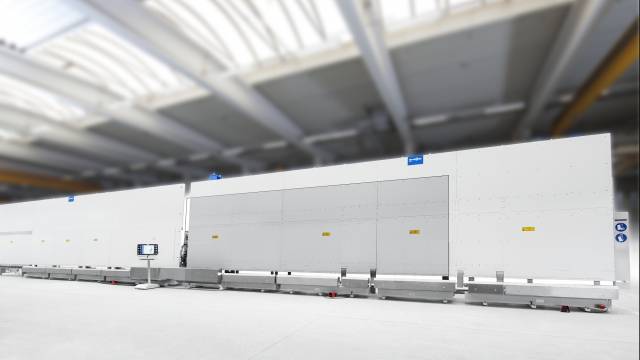 Bystronic glass re-interpreting the Olympic motto
The architectural glass processing machine and plant specialist recently delivered the first, new jumbo'sealer to Glas Trösch in Bützberg (Switzerland). The jumbo'sealer allows automatic insulating glass units sealing as well as facade elements measuring up to a maximum of 3300 x 9000 mm.
The growing trend towards the production of oversized insulating glass units and facade elements in glass processing is unmistakable. With the jumbo'sealer, Bystronic glass has once again demonstrated that the company group is a trendsetter for processing machinery and the production of architectural glass. "With the jumbo'sealer, our customers can automatically seal glasses measuring up to 9 metres in length or even longer on request", said Marco Stehr, Head of Sales Europe at Bystronic glass. "In doing so, the product range is extremely comprehensive – double or triple insulating glass units, rectangular or shaped formats, up to 4-sided stepped elements – all of these items can be efficiently processed on this machine".
It goes without saying that the exact dosing technology, which has been successfully deployed for some years following the introduction on the current best-selling Bystronic glass model, the speed'sealer, is also used on the jumbo'sealer. Triple insulating glass units are sealed in two cycles. This ensures that equipping times have been eliminated regarding nozzle exchange, when manufacturing units with alternating or asymmetric spaces between the lite...
expand