Glass has been put to incredible use at the Blue City, Poland's biggest shopping mall.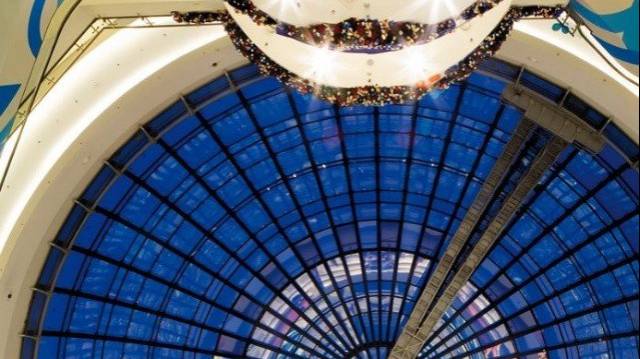 Saint-Gobain glass features in Poland's biggest shopping mall
It showcases the many shades of this versatile material. Located 3kms from the Central Business District, the mall is known for its distinct design and open spaces. Topping 55m over an area of 207,300 m2, it is the country's largest mixed-use asset.

Designed by Architect Vahap Toy of the Epit Co. Ltd., the main atrium highlights a fountain that spouts water up to 26 meters. It is decorated with ann incredible 2 million mosaic plates. The architects have used Saint-Gobain's tempered, comfort glass 'SGG Cool-LITE PB 135', which is the perfect glass for shopping centres.
SGG Cool-LITE is a solar control glass that helps in energy saving and economizes the use of air-conditioning. Hence it is an ideally suited glass for shopping centres, where a combination of high level of light transmission and low solar factor is needed. At the Blue City, needless to say, the blue shade of SGG Cool-LITE was used.
Blue City has the distinction of having the widest corridors among all the malls in Warsaw. Unlike its counterparts, it is reputed for its open spaces that are bestowed with abundant natural light. This has been made possible with the prudent use of glass for shopping centres, bringing together style with sensibility and form with function.
Nicknamed 'the city within a city', the mall is home to 200 retail shops, a three-star hotel, an entertainment center, supermarkets, an interior design store, a medical clinic and a car showroom. Glass is featured heavily, creating an element ...
expand