LiSEC has re-engineered the vertical sealing machines of the VFL series, dubbed "CleanSeal", with which even less effort is required overall to eliminate or prevent dirt, and the sealing quality of the corners is considerably improved. This results in significantly reduced production times.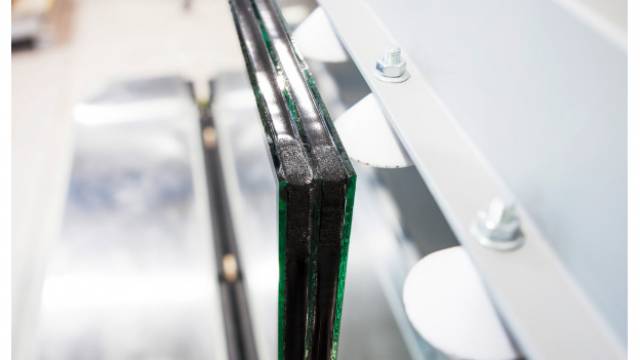 Perfectly sealed corners on triple insulating glass without any manual remake required
When developing the CleanSeal, the focus was put on increasing the overall quality of the end product. A key factor here was the level of material spreading that occurs. In conventional systems sometimes - depending on the operator's experience and instinct - too much sealant is applied around the corner. This excess material can lead to contaminate the units and the transport device. The solution: LiSEC developed a highly-dynamic, self-regulating, servo-controlled mixing/metering system. "Instead of designing a system that is 'more resistant to contamination', we developed a solution that ensures that less contamination is produced," said Alexander Kronsteiner, Head of Product Management at LiSEC. The new mixing/metering system detects temperature fluctuations and changes in viscosity caused by the differences between batches, etc. or by downtimes, and is self-adjusting, making manual re-adjustment unnecessary if changes occur. The new stationary mixing/metering unit enables precise metering without material slippage thanks to a large material flow range (up to 1:10). Kronsteiner continued: "All in all, we improved the mixing/metering quality tenfold."
The developers took a further step towards contamination thanks to optimised centring (positioning) of the glass sheets, which also results in considerably less glass breakage.
The CleanSeal concept also includes a re-design of the corner rollers for optimum material distribution in the corner area. "Until now, its function was...
expand