glasspro INDIA - International Exhibition for Flatglass Processing and Products - will open its doors from 23 - 25 February 2017 in Delhi, to showcase the latest and finest trends and innovation in flat and processed glass products and applications.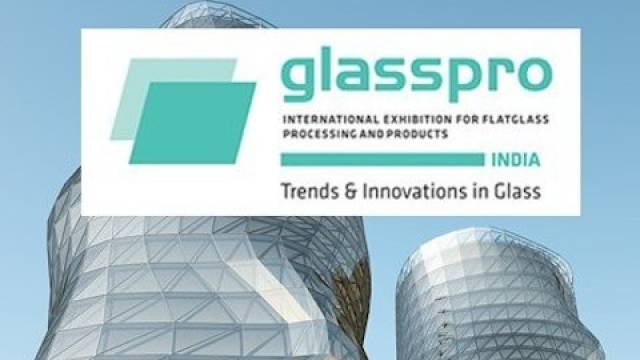 Glasspro India 2017 to showcase the best in flat and processed glass
The latest glass processing solutions, tools, auxiliary products and services will also be on display.
Over the years glass has evolved through scientific and technological advancements to cater to a myriad of demands across a broad spectrum of industries. Its influence is most prominent in the construction industry, which represents the dominant end-use market for flat glass.
There are many reasons to visit Glasspro India - in brief:
Why India?
•
Decreasing household size
•
Favourable demographics and growth in the services sector, especially the IT & ITES sector.
•
The demand for affordable housing is growing,
•
100% FDI in real estate has increased due to the growing interest of foreign players in the Indian market.
Exhibitor Profile
•
Glass Products & Applications
•
Flat glass processing and finishing
•
Tools, replacement and spare parts, ancillary equipment and fittings
•
Software and applications for architects and planners
•
Contracting, consulting, engineering, services
•
Research and teaching, trade literature, trade associations and organisations
Visitor Profile
•
Architects and interior designers
•
Builders and developers
•
Dealers and distributors
•
Glass manufacturers and processors
Show USP
•
glasspro INDIA - as part of the BUILD FAIR ALLIANCE - presents the entire value chain for the industry
•
The Industry is upbeat about the alliance
•
Top class professional au...
expand