glasstec, the world's leading trade fair in the glass industry with more than 1,200 exhibitors from over 50 countries will be held in September 2016 in Düsseldorf.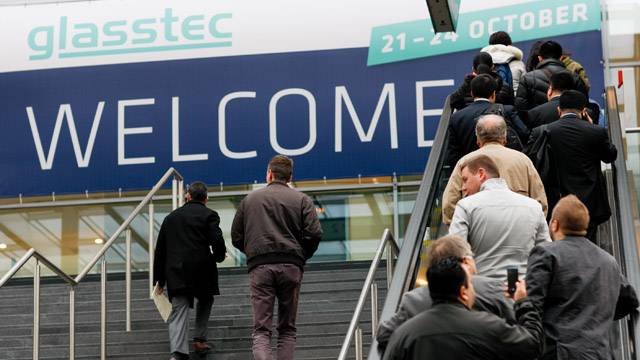 Visitors arriving for the most recent edition of glasstec
Companies in glass machine manufacturing, the glass industry and the glazing trade can now register for glasstec 2016, the International Trade Fair for Glass Production, Processing and Products, which will be held at the Düsseldorf Exhibition Centre from 20 to 23 September 2016.
It covers the full spectrum and entire value chain of all facets of glass material, and features top companies, and also attracts a high-calibre international audience. glasstec 2014 was attended by around 43,000 international trade visitors.
glasstec 2016 is a must for professionals in mechanical engineering, industry, architecture, the trade sector and solar power. Its wide-ranging ancillary programme includes special shows and conferences. The main highlight will be the special show Glass Technology Live in Hall 11, organised by Prof. Stefan Behling and his team from the Institute of Building Construction at the University of Stuttgart.
The show will feature spectacular exhibits, innovative products and pioneering solutions, with a focus on free-form, ultra-thin and solid glass, as well as glass used for information purposes.
Participation in any of the trade-fair symposia is free of charge for visitors.
Other special thematic areas will be the Crafts Centre with Craft LIVE, providing opportunities for a hands-on experience, the Façade Centre with the Glass and Façade Competence Centre, the Glass Art exhibition and the "Autoglass Arena" with the latest trends and an automotive glazing compet...
expand