A shining example of the potential of Pilkington Planar™ for transforming locations into part of a neighbourhood revival.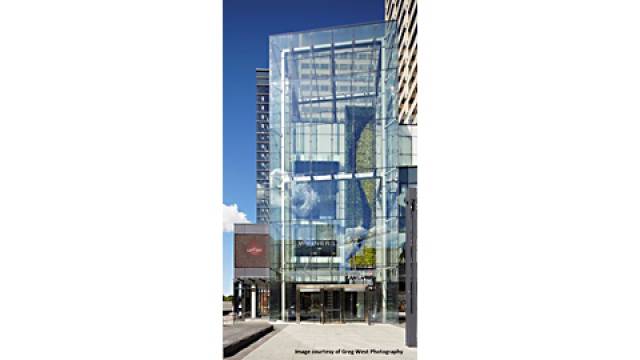 Yonge Eglinton Centre. Image courtesy of Greg West Photography
The idea of using a shop window to entice potential buyers has been around for hundreds of years, but not often has it been used on the scale of the newly refurbished Yonge Eglinton Centre located near Midtown in Toronto, Canada.
Dominating a landmark intersection is a four-storey structurally glazed cube, creating a stunning atrium space to welcome visitors to the retail complex.

The cube, which sits at the foot of a 40-storey skyscraper, projects above the roof of the centre, providing access to a rooftop patio which will offer an outdoor living and dining space for warmer months of the year. This patio is surrounded by glass walls to provide a safety barrier for visitors without interrupting the impressive views of the city.

At ground level, a glass canopy projects over the entrance doors, supported by a custom designed stainless steel rod structure. To visitors walking in and out of the development, this gives the impression of an almost free-floating glass ceiling.
A second canopy has been installed above the exit to the roof patio, this time featuring vertical glazed fins to achieve almost complete transparency.


Box clever

The towering atrium walls are constructed from individual sections made up of six four metre double-glazed units. Pilkington Optiwhite™ true low-iron glass was used, and the inside of the outer pane in each features a high performance low-e coating to deliver better thermal insulation by reducing outward radiation of heat.
An argon-filled cavity in the u...
expand