Westcountry Glass, part of the Cornwall Glass Group, has made its largest investment in 37 years of trading.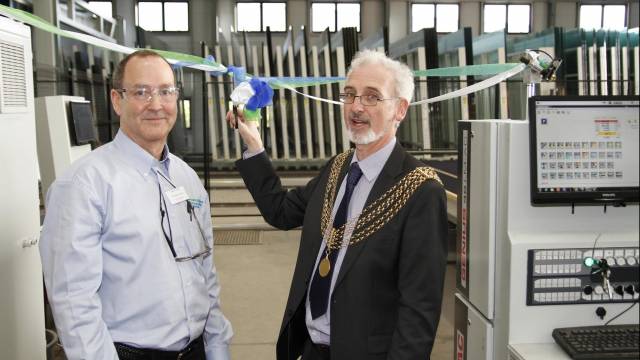 Westcountry Glass expands to increase Warm Edge production
The insulated glass (IG) sealed unit manufacturer, previously located in Saltash, has now relocated to its new factory in Plymouth. The new building is four times the size of its previous site.
The new factory was officially opened by Lord Mayor of Plymouth Councillor Dr John Mahony who cut the opening ribbon with Westcountry Glass company directory Mark Norcliffe.
The new building houses a range of state-of-the-art equipment including: a new toughening plant and CNC processor; an AG-Series Gapless Forced Connection Glass Tempering Furnace; an Intermac CNC Master 33; automated concertina racks and two new jumbo Intermac cutting tables; one for laminated glass and the other for float (monolithic) glass.
In addition, there is a new Bystronic IG Line with first production on Thermobar Warm Edge Spacer from Thermoseal Group. This line will produce up to 2700 x 5000mm size units, double and triple glazed.
An investment approaching £5million has been allocated to this ambitious project, with the anticipation over the next 24 months of creating an additional 40 jobs to add to the Group's current total workforce of 240.
Much time, effort and research was spent visiting machinery manufacturers in Romania, Italy, Spain, Ireland, China along with visiting many like-minded and kindly UK glass processors and IG manufacturers, before the key purchasing decisions were made. The whole project was planned and implemented over a tight but momentum fuelled 12-month period.
Aside from this mi...
expand