EnduroShield's X-Line has been voted the most significant low maintenance coating machine of 2017in the US Glass Magazine's annual Readers' Choice Award.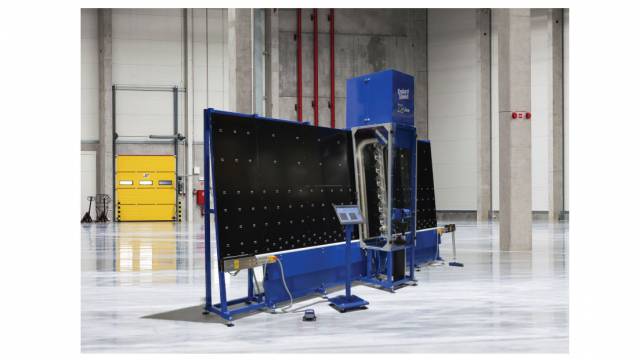 EndurShield's X-Line Automatic Coating Machine combines uncomplicated design and smart technology
US Glass Magazine's annual Readers' Choice Award results are in and the X-Line Automatic Coating Machine, designed and built by EnduroShield, has been recognized as the coating machine of choice.
X-Line, the fully automated high speed in-line coating solution for applying EnduroShield easy clean glass treatment, allows ease of integration into existing manufacturing lines, scalable to any size operation. Some of the world's leading glass fabricators using EnduroShield and X-Line are able to differentiate from the competition by producing easy clean, low maintenance glass that offers a value added service driving increased revenue.
"As one of North America's largest shower door manufacturers we have partnered with EnduroShield since 2009. The migration to the X-Line, being a single piece flow solution provides us the flexibility and efficiencies consistent with our focus for continuous improvement," said Jared Ross, President - HMI Cardinal.
The X-Line has a number of defining features, which have contributed to its winning customer driven design; it offers complete flexibility with in-line or stand alone, and single sided or double-sided coating options. X-Line is also the most efficient and affordable coating machine on the market, averaging just 30 seconds per panel and applying just the right amount of coating, every time.
X-Line applies the industry's best performing easy clean coating – EnduroShield.
EnduroShield's easy clean glass treatment has a proven performanc...
expand