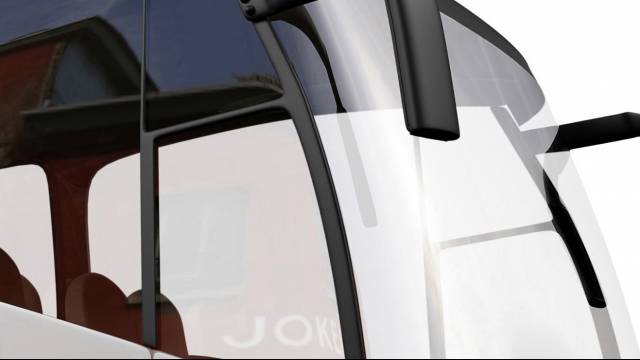 Bus nose featuring a large complex windshield design
The principles of the bending process for large and demanding, bus or special vehicle windshields are based on the gravity bending method. In this article, we will take a look at this process, divided into five individual stages: Loading, Pre-Heating, Bending, Final Bending and Annealing/Cooling. Although all of these individual bending stages do not physically really exist, dividing the entire bending process into different stages enables easier approach to the subject.

Loading – the important first step
Towards successful results or complete failure
Before heating, the pre-processed glass pair is loaded on to the mould usually with the help of loading equipment. Although this is a cold stage, there are several aspects that can either guarantee successful results or result in a complete failure. Unbalanced loading position will create difficulties that might prove incurable later in the process causing breakages, deformations, and many other defects.
Firstly, the glass should be carefully placed on top of the mould. After the glass is firmly on top the mould, the mould should support the glass pair firmly and uniformly all over. There should be no pinpoints such as stresses/weight peaks in any specific areas. Side supports and glass centre support help to achieve this perfectly balanced state that is required to guarantee the perfect departure point for the bending process.
If the mould is equipped with freely moving counterweight arms, the weights should be adjusted so that t...
expand