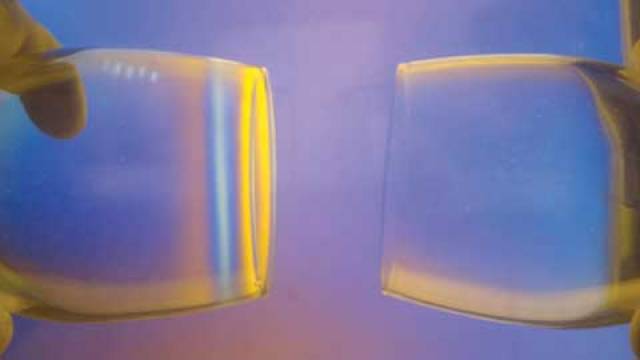 Annealed versus Rim Tempered Stemware
Vidromecanica started manufacturing at its own facilities in 1984. Today, the company's team of engineers with experience in glass equipment manufacturing develop different types of equipment such as: annealing and decorating lehrs, tempering lines, chemical tempering, mould pre-heating kilns, stackers and cross-conveyors, cullet recycling equipment such as cullet crushers and scraper conveyors. Vidromecanica has sold over 1,000 machines for the glass industry to 55+ countries and +110 glass plants.

Rim Tempering
Rim Tempering produces some of the most durable glassware in the industry. The Rim Tempering process created by Vidromecanica performs only on the upper portion of the glass, such as tumblers and stemware, increasing its resistance to mechanical and thermal shock. These two big factors affect glassware performance in foodservice operations.
Rim Tempering can be carried out after the articles have been formed on the press machine or blown machine, and after being annealed or decorated. For this reason, after the heat treatment of the rim process, the glass articles have both performances of annealed in the body and toughened at the rim.
Vidromecanica's Rim Tempering treatment is a heating process with quick cooling, which strengthens the glass only on the upper third of the glass item, putting less stress on the glass if we compare with complete glass tempering. The end edge of glass – the rim – is more resistant, has longer life and the glass articles will have added v...
expand


Download full article in PDF