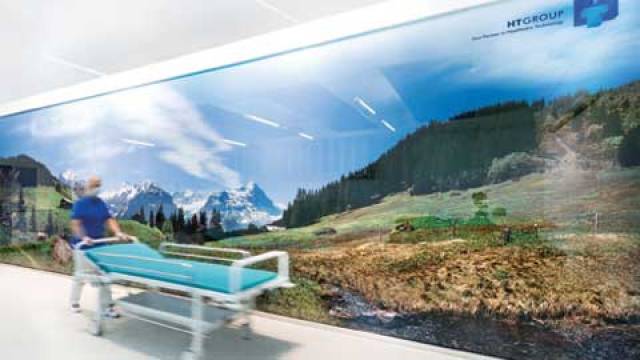 The glass wall covering, with its 27 square meter large surface, was produced by sedak. It allows new standards of aesthetics and hygiene in hospitals and laboratories. The picture by Oberli Engineering GmbH was printed using the ceramic-ink digital pri
A clean solution: 27 square meters of glass with a photorealistic ceramic-ink digital print
Not only can sedak produce oversize glass units; sedak also moves mountains. For the HT Group, a supplier of room solutions in the sector of medical engineering, the fabricator produced a 9 x 3 metre digital printed glass pane. The 10-millimetre thick, heat-strengthened low iron glass was finished with a photorealistic print of a mountain panorama of the Swiss Alps. sedak thus combines two exceptional capabilities: the fabrication of large-size glass units, and a finish with the world's biggest digital printer for ceramic inks.
In order to be able to reach a new level of hygiene standards in laboratories and hospitals, designers have been relying on panels for walls. Glass opens up new possibilities where conventional materials set limits. Due to the nearly non-porous surface, the robust, and durable material can be aseptically cleaned very quickly and without any difficulties. Therefore, glass is particularly suitable for rooms with an especially high demand for hygiene like surgery rooms, intensive care units, and clean rooms.
Oversize glass goes even a step further. That is why the HT Group relies on a glass pane with a surface of 27 square metres that covers a complete wall. Thus, the entire surface is jointless. Bacteria, and other germs have no way to find any kind of breeding grounds.

Aesthetics embrace functionality
With this glass wall, the HT Group sets new design standards. T...
expand


Download full article in PDF