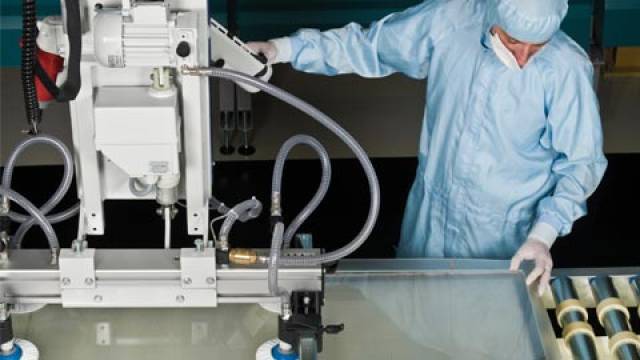 For 20 years, SCHOTT has been successfully selling its borosilicate glass BOROFLOAT®. The company manufactures it with the help of the Microfloat process at its founding site in Jena, Germany. Photo: SCHOTT
Celebrating BOROFLOAT®
The employees of SCHOTT at the founding site in Jena celebrated the success of the speciality technical glass BOROFLOAT® together with their families at the beginning of April this year. The company has been marketing this glass successfully for 20 years now. The borosilicate glass that is floated in Jena forms the basis for a wide range of products which SCHOTT also processes at the site: from interior oven doors to the internationally known fire-resistant glass PYRAN® S, RESISTAN® bullet-proof glass, and NEXTERION® substrates for use in the biosciences. Furthermore, SCHOTT also supplies its customers with
BOROFLOAT® in standard formats. Customers include glass processors in the optical, household appliance, and mechanical and plant engineering industries.
"Manufacturing of speciality glass in Jena has become an important pillar for the SCHOTT Group over the last 20 years. On behalf of the Board of Management, I would like to congratulate our more than 400 employees in this field for this outstanding achievement," said Dr. Hans-Joachim Konz, a member of the Board of Management of SCHOTT AG, in his speech.
"All of us – float glass manufacturing, processing, quality management, development, application, logistics, sales, marketing, controlling, the personnel department, and management, of course – have worked very hard to make BOROFLOAT® a success in recent years and to further refine our technological expertise. We have also invested a lot of en...
expand


Download full article in PDF