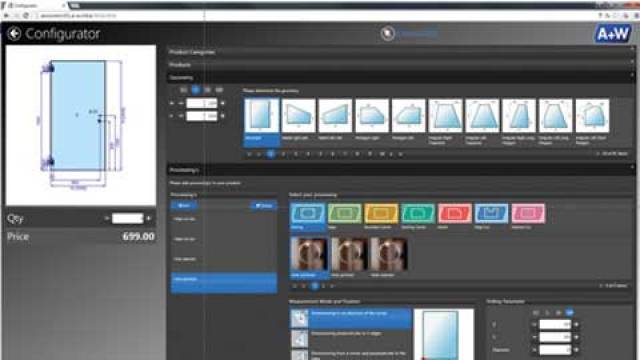 For online configuration with A+W iQuote, nearly all of the op-tions of the 'big' A+W ERP systems are available. The customer sees the complete order history and can, as is common in the B2C sector, remove products from or add them to the shopping cart
But where is the potential for innovations? With generally thoroughly good product quality -- at least on the EU level -- it is becoming ever more important for the producers to define themselves through intelligent services in addition to product innovations.
Here, the focus is on observing the sales channels more precisely and optimizing them: New sales paths can shorten the path to the customer and create real added value for all participating part-ners.

Everybody has a browser - everywhere!
Thus a reliable and easy-to-operate tool for browser-based product configuration - without an installed ERP system, on the go, and flexibly - is a very interesting sales tool for retail and assembly companies, but also for end customers and a company's own sales force. Inquiries, offers, and orders are thus processed more quickly and easily, and also more securely.
But the manufacturers can also improve their processes this way: All too often, when it comes to automation and improvement of logistics, producers are too focused on production. However integrated information processing and process organization begin with the inquiry for an offer and end with improved shipping logistics. Here there is also a lot of optimization potential!

Configuration with A+W iQuote
Currently, at A+W customers, the Web configurator A+W iQuote is being tested, with which even highly-complex products can be configured directly in the Web browser and ordered, taking into full account the master data and r...
expand


Download full article in PDF