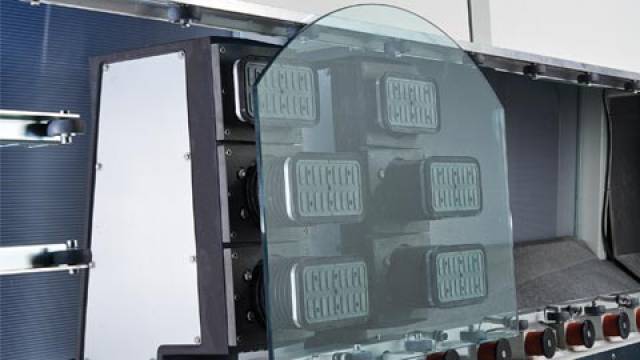 Intermac: interest grows in vertical processing
Responding to the uncertain market
Thanks to its extreme flexi-bility, glassmakers choosing Vertmax have the ideal means to produce furniture elements, glass doors and showers, as well as large format structural glasses, parapets and refrigerated counters. This is made possible as Vertmax can manufacture different products consecutively, with zero dead times thanks to the automated work area setup and innovative glass handling system.
Vertmax also provides maximum flexibility in terms of workable dimensions. The machine easily changes from float to laminated glass machining.

Patented and exclusive features
Another important feature regards the four independent shuttles, each with three independent suction cups, which can automatically adjust their position to optimize the glass-blocking area of the suction cups depending on the internal and external processing to be carried out, thus offering higher flexibility and productivity.
This solution is covered by European Patent and is an exclusive feature of the Vertmax.

All in one
The concept of Vertmax is to summarize all machining operations needed for the realization of showers, balustrades, doors, etc., in a single machine. Whereas in the past you needed a straight line machine or a double edger, a work centre and a drill, today you can simply load your piece in the Vertmax and get high quality results.
Vertmax can execute the operations of grinding to measure, polishing, arising, drilling and small millings on both, small pieces and...
expand


Download full article in PDF