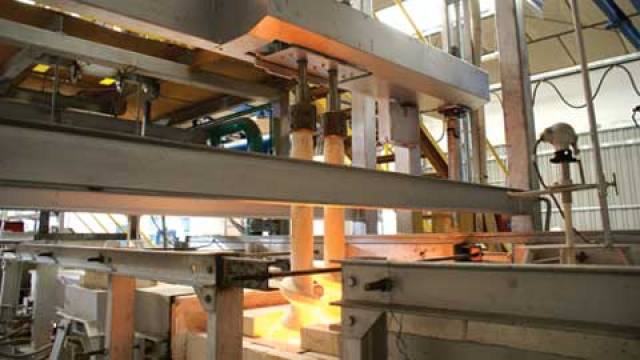 Vidromecanica: Cord removal stirrer systems
The problem – cat scratch cords
Cat scratch cords are the defects that sometimes appear on the glass articles. This problem can appear and disappear and can evolve only on some production lines. There are several conditions that provoke high-density viscous glass to appear when the glass flows onto the spout. Deeper zones where the glass is colder are the most critical zones.
The cords visible on the glass surface are the result of different glass properties and composition. Dissolution of refractory materials is the reason for the difference in composition in the glass.

The solution from Vidromecanica
Vidromecanica has developed a cord dispersal stirrer system in collaboration with glass plant manufacturers with the purpose of mixing the dense viscous glass with cord that is present on the bottom of the forehearth.
One or various twin counter-rotating stirrers are installed to lift the dense 'cordy' glass that is following on the bottom. The cord material is dispersed in the molten glass before arriving to the spout, thus eliminating the visual defect.
To lift and mix the cords material, stirrer speed is about three rotations per minute. Vidromecanica's remote control panel is provided with inverters that controls and indicate the stirrer speed.
Type and design of stirrers are chosen depending on forehearth widths. Normally, helical stirrers are used in thinner sections and paddle type stirrers are installed in wider sections.
To get the correct elimination of cat scratch e...
expand


Download full article in PDF