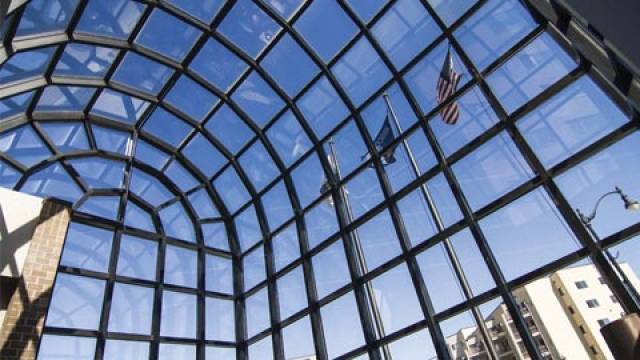 Omni Glass and Paint: choosing the right fire-rated glass for your business
More and more businesses are utilizing fire-rated glass because it enhances the safety of their buildings and meets safety codes. Fire-rated glass has been tempered to resistant high levels of heat from a fire.
You may wonder why fire-rated glass would be necessary if there is a sprinkler system in place. However, a sprinkler system could become faulty or ineffective. The fire-rated glass would dramatically help slow the fire and keep it from spreading.

Polished wired glass
Wired glass has been around for over a hundred years. It has a good track record for safety and has a lower cost than other fire-rated glass options. However, it only meets the mini-mal 100 feet per pound impact standards. If someone accidentally smacked into the glass, it would probably shatter, and is therefore not ideal where impact safety is a concern because of its low resistance.

Ceramic glass
You probably recognize the word 'ceramic' from
cookware. Ceramic is known for enduring extreme heat up to three hours. Now there is a clear ceramic glass which can be used in large structures, with the highest impact-safety rating and withstanding extreme heat. Ceramic glass, in fact, can withstand extreme heat and the shock of water being thrown on it to maintain a high level of safety.

Glass wall panels
A glass wall panel is a clear, fire-rated glass sheet. These multi-layer panels will block heat from conducting for up to two hours. These panels are ideal for floor-to-ceiling panels or wall-to-wall glass des...
expand


Download full article in PDF