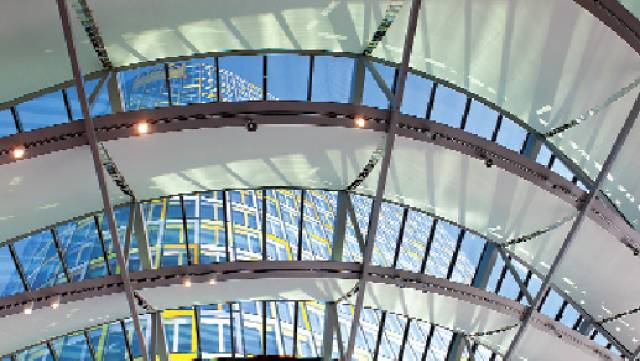 The new headquarters of ADAC, the German automobile club, has an 18-storey office tower of steel and glass
Interpane is a medium-sized corporate group and one of the major European glass processors. The company's product range includes high-quality coated insulating glass, sound-proofing glass, solar-control glass, safety glass and all-glass doors and panels. Today, the Interpane group comprises 11 production facilities at ten locations in Germany, Austria, and France, with headquarters in Lauenförde, Germany. In addition, Interpane produces float glass at Seingbouse in France.

High-rise and low-rise for the ADAC
Everyone in Germany knows the expression "yellow angel", and most of its 17 million members have already made use of the organization's road assistance service at least once: it is the largest automobile club in Europe, the ADAC. It employs over 2,400 people in Munich, until recently at six different locations. The new headquarters in the west of Munich is now operational and gathers all the colleagues under one roof. The impressive complex consists of a 5-storey, gracefully curved base, out of which emerges an 18-storey office tower of steel and glass – a colourful, shimmering eye-catcher in Munich's skyline. In the façade and the roof, ipasol solar control glass and iplus E thermal insulation glass from Interpane ensure rooms that are flooded with daylight and provide excellent protection from the summer heat and effective thermal insulation.
On a gross floor area of 129,500 square metres, the employees from all branches of the company – insurance, financial...
expand