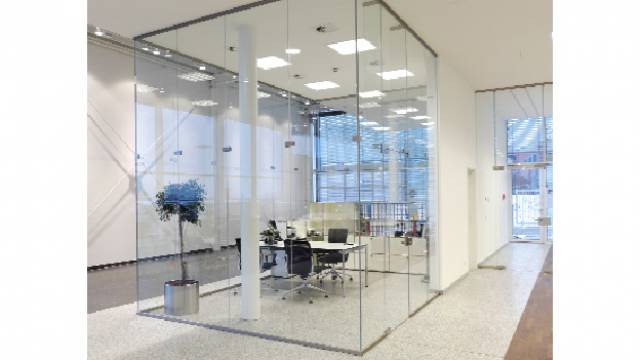 Ceilings, floors, room dividers, doors, wall panels, stairs, side rails and furniture made of glass can be individually aligned with the room concepts
For façades, glass has long since gained status as preferred material. Refined into high-performance functional glass, the transparent material takes on various functions in the building shell. It offers protection from heat, sunlight and noise, directs light to specific areas in rooms, and – thanks to its unique transparency – facilitates light, open architectural design. In addition, glass also offers nearly unlimited design options. Glass can be transparent, translucent or opaque. It can create architectural accents through colour and individual designs and fulfil the toughest security requirements, at the same time. No other façade material offers a similar scope of design possibilities.

Drawing interest
While the advantages of glass in façade construction have been valued for decades, the glass trend in interior design only started in the last 10 years. Two framework conditions are mainly responsible for the extraordinarily positive development of the material in the area of interior design. On the one hand, several new refining technologies have been developed recently that allow for the production of completely new glass products. On the other hand, the glass industry and the medium-sized glass refiners have developed numerous creative glass ideas on the basis of these new techniques and have used systematic marketing measures to direct interest to the innovative glass products.

Attractive business segment
Industrial glass producers, medium-sized refiners and the g...
expand