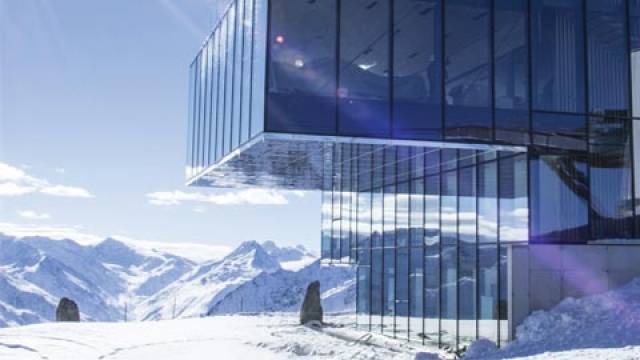 Opened in January of 2014 at 3,048 metres above sea level on top of Gaislachkogel peak in Sölden, Austria, the design restaurant "Ice Q" serves as a prime example of contemporary glass architecture right in the High Alps. The 900 m2 glass façade with its
Façades have long moved beyond being just static shells providing weather protection at the interface of building interior and exterior. With good reason, they're often compared to human skin, which indeed does have a protective role to play, but also adjusts dynamically to external conditions and thus maintains the body's "ideal temperature." Modern glass façades are tasked with exactly this function – except in relation to indoor climatic conditions. In the light of significantly tightened energy efficiency standards for buildings, the building envelope must play yet another crucial role in achieving a reduced primary energy demand. Heating, air-conditioning and lighting are among the most power-hungry systems in office buildings. And the façade can directly influence these consumption factors. The goal must be to optimise thermal insulation, protect interior spaces from overheating, ventilate rooms in a controlled manner, use daylight to the fullest extent possible and minimise the use of supplementary air-conditioning.
Keeping pace with ever higher expectations, façade technology has been systematically improved in years past. One target pursued in this development process is the multifunctional adaptive façade, a shell that's able to respond dynamically to changing environmental conditions. Glass façades hold great potential in this area. Decentralised controls for ventilation, heating and cooling via the building envelope enable significant building technolo...
expand


Download full article in PDF