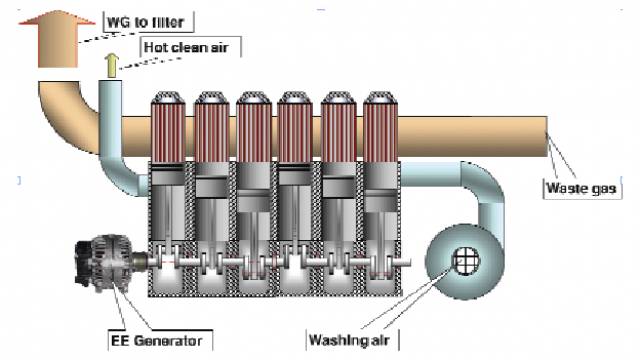 True_Tree is the only cogeneration system specifically designed for glass furnace applications
Introduction
All glass manufacturers know that it is impossible to transfer all waste gas heat to combustion air. In fact, it is well-known that waste gas has a higher mass and higher specific heat than air; even in a modern and performing regenerative furnace, at least 20-25 per cent of heat generated by fuel actually leaves the furnace with the 450-500°C waste gas.
Stara Glass is, today, deeply committed in studying techniques to exploit this otherwise lost heat. The Centauro system enables to save it as a hot clean air flow, but a further energetic advantage is offered by cogeneration.
Stara Glass approached the problem of cogeneration by using an innovative external combustion engine, designed by Mr. Placidi, a highly experienced mechanical engineer, working in the glass and energy industries.
The resulting and innovative True_Tree system lowers the waste gas temperature down to 200°C, recovering thermal energy and transforming a quota of 22-29 per cent into mechanical and then electric energy. The remaining energy is recovered as 100°C clean air.
Electrical energy thus generated can be directly connected to the local network and it stands as an immediate economic saving, which must be added to eventual relative environmental incentives.
Hot air, depending on specific cases, can be used to warm up work areas, transformed into warm water for sanitary uses, or be considered as the first stage of a furnace heat recovery system, thus increasing furnace efficiency by 0.5-1.5 per ...
expand