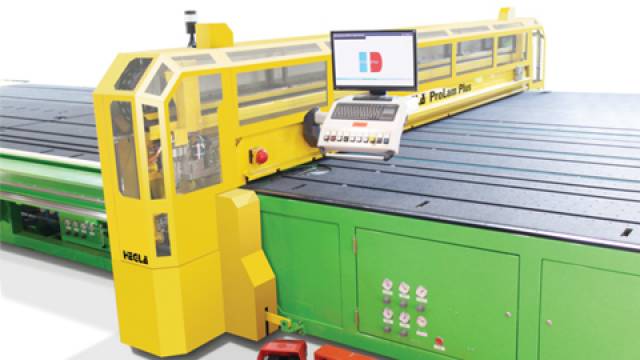 ProLam Plus – Model cutting system for laminated glass
With the new ProLam Plus, HEGLA is unveiling an evolved cutting system to cut free forms and models automatically, with precision, from laminated safety glass.
HEGLA's search for an optimized technical solution has taken a number of years to achieve. The basic principles for the process technology had already been identified in 2001. The application for the patent for the invention was filed in the same year.
HEGLA had sought to develop a new system that is not only capable of cutting LSG models, but which also offers high precision and short cutting cycles. A drive concept which has been improved over the years is now the platform for meeting these high aspirations.

Cutting process development
The development of the cutting process for laminated glass has been taken further for automatic model cutting on the
ProLam Plus. The underlying principle has stayed the same: the cutting bridge is mounted in a fixed position, making the multi-axis cutting process for models much more elaborate. While, in the past, the cutting heads were able to score the glass in X-direction, this was not possible on the Y-axis due to the fixed position of the cutting bridge. In order to accomplish this motion, the glass is concurrently fixed by twin grippers and accurately moved according to the cutting plan. The cutting heads follow the contour with a synchronous electro-mechanically controlled rotating motion. This method permits any model to be executed that could previously also be scored in f...
expand


Download full article in PDF