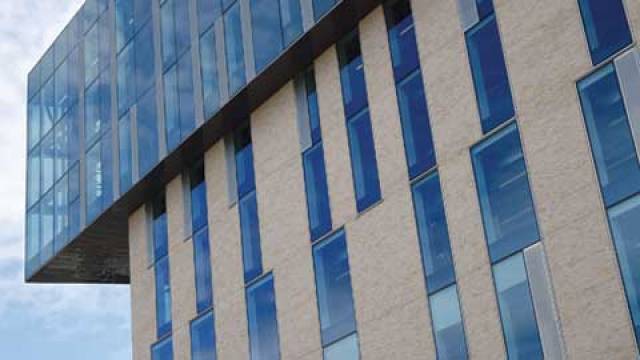 Form, colour, versatility: ipasol neutral 60/33 lets plenty of daylight into the University's new rooms but keeps the summer heat out.Photos: AGC Interpane
Out with the old; in with the new
Almost ten years ago, in 2006, a report commissioned by the Department of Employment and Learning concluded that the old University building had reached the end of its useful life and was no longer suitable as a modern centre of learning. Various options were considered: demolishing the building, rebuilding it, renovating it or moving some of the University's activities to another location. In the end it was decided to relocate to nearby York Street as this was found to be the most cost-effective alternative as well as the best one academically. Between 2007 and 2010 the University bought four buildings around the campus: Playboard and York House near the renovated College of Art, the Metropole and the Interpoint Building. The GBP 250 million refurbishment project, which the University expects to finance almost completely over 25 years, could then begin.

The different blocks
Block A has five floors and includes the reception, several auditoriums and the library. It is connected to Block B and other building sections via a skywalk.
the modern glass façade of Block B was constructed by McLaughlin and Harvey using 2,000 square metres of complex glass structures from AGC Interpane's plants at Lauenförde and Plattling. The project was exemplary for the cooperation it required across several sites: the glazing was coated with highly selective ipasol neutral 60/33 for effective solar control and then processed further with complex screen printing. S...
expand


Download full article in PDF