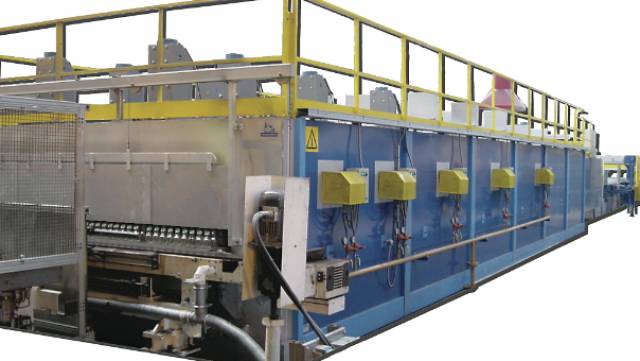 Vidromecanica continuously improves the energy consumption of all its thermal treatment equipment
Vidromecanica started its activities in 1984, with a partnership with Belgian company Cobelcomex, based in Brussels, a leader in the manufacture of annealing/decorating lehrs and tempering lines.
At present, Vidromecanica has developed and exploited the know-how that it has gained over the years and adapted it into new technologies, manufacturing its machinery with high performance and quality.
Vidromecanica's software, which is supplied together with it equipment, calculates the accurate temperatures and working speeds, following the glass characteristics and dimensions of the articles.
Using Vidromecanica's equipment and the annealing, decorating and toughening curves indicated, can result in considerable energy savings, unmatched efficiency and performance.
Vidromecanica is the world leader in the manufacture of belt tempering lines and tempering lines on spindles, and one of the biggest manufacturers of annealing and decorating lehrs. This increases the company's responsibility towards its customers, who it also considers as partners.

Annealing
If you are manufacturing glass items and you are unaware of the annealing or cord characteristics of the items, you may be exposing yourself to unnecessary risks. An improperly annealed glass item exhibits elevated tensile stress levels, which, if excessive, can result in spontaneous failure of the item. In addition, when loads such as internal pressure or thermal shock are applied to improperly annealed items, the two stress field...
expand