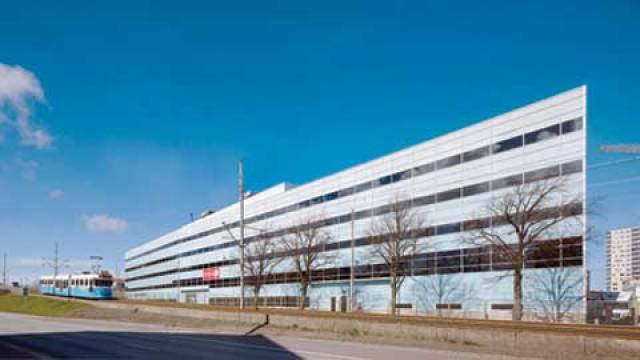 The impressive 'glacier' building also shields a residential area from the noise of a traffic artery Photo: EControl-Glas
Dimmable glass – Nordic style
Gothenburg, Sweden: Until recently, the district of Kvilbäcka in the east of the metropolis was one of the city's less fashionable addresses, but now the area is undergoing a great transformation. As part of a municipal modernization project, around 2000 new residential and commercial buildings, shopping centres and restaurants are being built or have already been completed. The area is developing into an attractive place to live and work for its population of around 10,000. Among the new buildings, one is very prominent: Glasiären, the 'glacier'. The bluish shimmering new building combines a fitness centre, offices and a parking level within its six floors. It also functions as a noise damper between a residential area and a main traffic artery. The special feature of the building is that almost 1,000 square metres of the dimmable glass ECONTROL are set into the façade making it appear like a Nordic creation out of ice.

Sunglasses for the glass façade
The constructors - AF Gruppen - a leading Norwegian construction company, faced a very special challenge in the realization of this project: the glass façade had to be designed in such a way that the interior does not overheat in the summer while in winter only a minimum amount of warmth is lost.
In order to retain the Nordic-cool, aesthetic appearance of the glacier building, the planners decided to use electrochromic glass. The dimmable glazing reduces the transmission of solar heat by ...
expand


Download full article in PDF