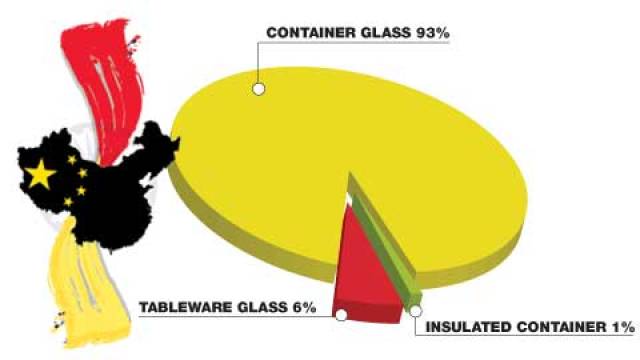 China and its glass market
In this dossier, we are going to take a look at China, speaking about companies working both for the domestic and international markets. We spoke to some of our clients, who gave us straightforward answers to five simple questions about the Chinese glass sector. We are also presenting a few 'smaller' Chinese glassworks to give an idea of how they work with the global glass community.

....................
WORKING WITH CHINA FROM THE 'WESTERN' POINT OF VIEW the chinese glass Sector
In China, the glass products sector is generally divided into container glass, tableware glass, and insulated containers, where the container glass segment includes bottles for alcohol and other beverages, pharmaceutical and cosmetic bottles, etc.
Container glass takes up the vast majority of this sector at 93%, where beer and alcohol bottles take up 20% of container glass, or almost 19% of the entire daily-use glass sector.
Bottle making machinery upgrades account for the majority of demand in the daily-use glass sector, calling for higher-efficiency, automated equipment. Here multi-segment and multi-gob machinery are the direction for bottle making machinery developments.

Daily-use Glass
Daily-use glass as termed in China is tableware and insulated glass, including alcohol bottles, pharmaceumetic bottles, etc.

How does your company consider the Chinese glass market and how much does it effect (percentage) of your company's global turnover?

Commersald:
The Chinese market has gained considera...
expand


Download full article in PDF