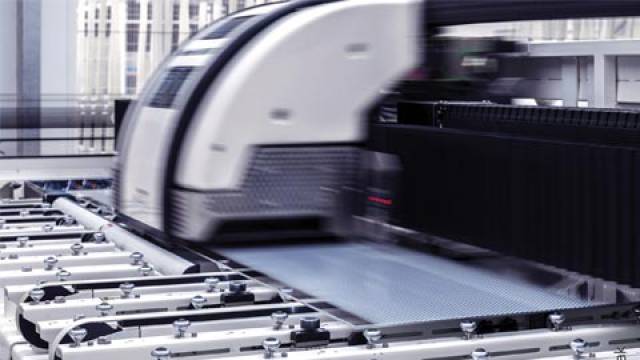 Modern glass finishing machines must deliver the best product quality in shortest cycle times and blend perfectly with the company's production workflow. The photo features the new XXL flatbed printer from glass finisher sedak in operation. Photo: sedak
The requirements made of glass machinery and equipment manufacturers are more comprehensive and challenging than ever before. The increasing international competition in the glass sector, the associated price pressure, the growing number of different glass products and the strongly diverging batch sizes mean many glass converters are looking to high-performance technologies. To stand their ground against competitors the production of these enterprises must be highly efficient and they must consistently deliver the best possible product quality and ensure maximum flexibility. Another challenge is the rising weight of construction glass. Large-format glazing units are in fashion and the proportion of laminated toughened glass is also continuously on the rise. To efficiently manufacture these heavy large-format sheets processing machines and in-house and external logistics need to be modified. Moreover, the greater variety in types of glass requires a faster changeover between glass types – one prerequisite for this being optimised storage.

High process speed and top quality
In view of the excess capacities prevailing on the glass market cutting production costs is often a matter of survival for glass-processing companies, especially in Europe. With a view to optimising the ratio between input and output, companies increasingly focus on consistent automation concepts, which are based on a holistic view of the operational environment and production workflow. Machine producers g...
expand


Download full article in PDF