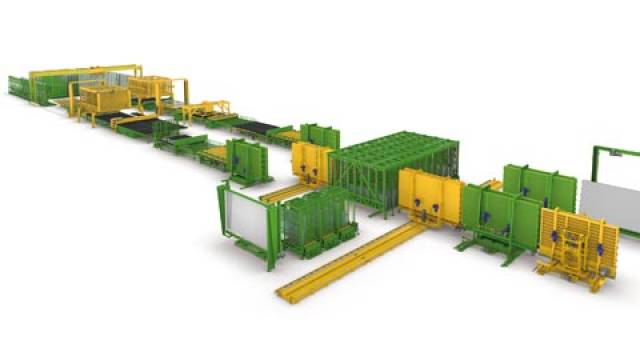 A sample setup of two cutting lines for float and laminated glass, each with a ReMaster to reduce the amount of waste glass. At the end there is a SortJet, which allows the additional optimisation of cutting and produces a continuous flow of glass for the
HEGLA will exhibit at the upcoming glasstec trade fair with a focus on solutions to reduce costs and optimise processes. HEGLA will exhibit four cutting lines, which could be - or already are - in operation in this form or a similar form at a modern glass supplier, on a display area covering 1,500 square meters. "We want to demonstrate what is possible in flat glass processing these days to improve processes, reduce costs and reduce glass handling," confirms Manfred Vollbracht, Managing Director of HEGLA. "I am convinced that each and every visitor to our trade fair stand will be able to go away with an idea, suggestion or vision for their business, employer or for themselves. We will focus on exhibits in real-time operations, which will be brought to Düsseldorf on more than 20 trucks and special transporters, especially for the trade fair."
The cutting line on display for cutting laminated glass models will not only be of interest to technology enthusiasts. A ProLam series cutting line, which has the patented Shape equipment for cutting models, will be on show. Two cutting heads score the top and bottom of the laminated glass simultaneously and absolutely synchronously and achieve dimensionally accurate and reproducible cutting results. "We now sell a number of laminated glass cutting lines with this equipment. Our customers can score considerably more accurate models in a much shorter time compared to all other versions", says Manfred Vollbracht.
A solution for ...
expand


Download full article in PDF