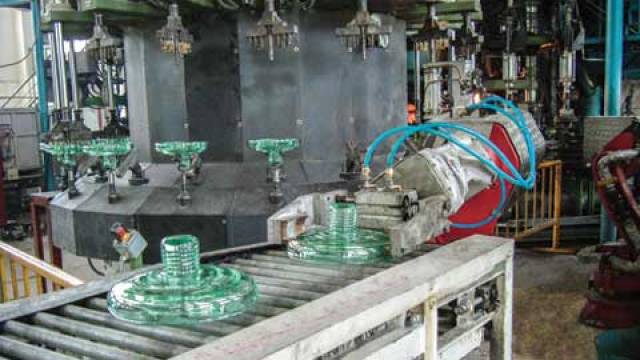 Ocmi Group: top-level technology
OCMI GROUP started its activities in the field of production machinery for technical glass production in 1997, together with its partner MT Forni Industriali, an Italian company specialized in the development and supply of glass melting furnaces, annealing and decorating lehrs for diverse types of glass items and volumes. The synergy between the skills of these two companies enabled them to supply complete turnkey factories for the manufacture of two high-tech products: glass insulators for high tension airlines and glass bricks used for architectural purposes. The turnkey plants supplied, examples of highly prestigious achievements, have been created for business leaders in Italy, Algeria, Iran and China. Lines installed for these types of production go from 30 to 60 tons per day of pulled glass, since only high production levels can justify such important investments.

Glass insulators
Machinery for the production of glass insulators has been installed in countries with a high level of availability of raw materials and where the governments decided to be the main investors of these electrification processes. Due to the very delicate function of the items to be manufactured, this type of production needs maximum attention for each and every detail, starting from the quality of raw materials, percentage of each component in the glass composition, glass temperature in every point of the processing line up to storage method used and time needed. This is the reason why the...
expand


Download full article in PDF